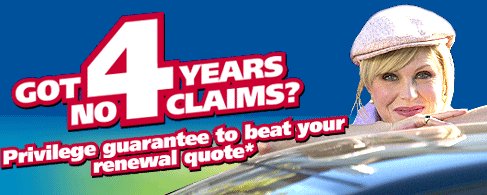 Privelege Car Insurance

Privelege Car Insurance offers competitive rates to drivers who rarely make claims.
A guarantee to beat your renewal quote if you have 4 years or more No Claims Discount.


Up to 65% No Claim Discount with 4 or more years no claims discount.


Pay by easy monthly instalments, subject to status.


24- hour accident recovery.


25% off the top 2 levels of Privelege breakdown cover, in partnership with Green Flag Motoring Assistance, for the 1st year when you buy online.

Privelege also offers home insurance at excellent prices.

Click here for an instant quote.